Perfect Stocking Stuffer!
November 23, 2010 3:00 PM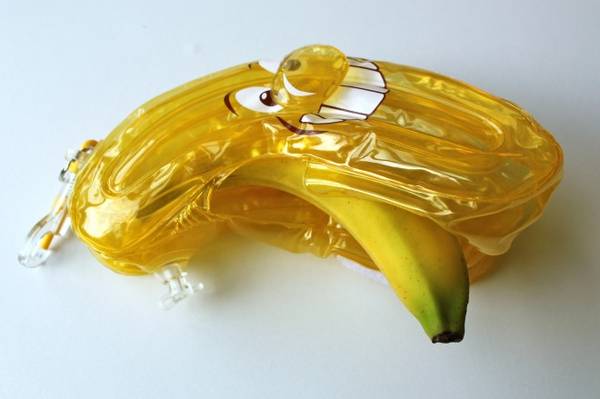 What is it? Just look at it! Could this be another era of bringing back inflatable objects? I remember when my sisters had inflatable chairs, pillows and picture frames, but now they make inflatable cushions for your fruit so it doesn't get bruised! Genius! A UK company called Fruity Faces has produced, and is currently selling, this "Mengi
" inflatable banana carrier. Not only does it protect your fruit from bruising, but it's something fun your your child to take to school in their lunch sack to encourage them to eat their fruits. Everyone knows that lunch gets tossed around on the bus, in the classroom, and to the cafeteria. Not anymore! Maybe they won't eat a banana under any circumstances, or sadly, they're allergic? Well there is a wide variety of inflatable fruit designs that will fit an apple, orange and other round fruits. The colorful designs also include monsters, footballs and various animals. Each inflatable also comes with a key-fob clip so if your child's lunch sack isn't big enough to hold the inflatable fruit protector, it can clip on a backpack. Fruity Faces works to promote healthy eating and they even donate a percentage of their profits to children's charities. This is something really great in time for the Holiday's, especially as a stocking stuffer!!